SKU: 760S
Regular price
Sale price
$9.99 USD
Unit price
per
Sale
Sold out
Helps build strong bones*
Supports a healthy heart*
NON-GMO, gluten free and soy free



*Discounts don't apply to 760A,760S
SIZE: 90 Count
DAYS SUPPLY: 90
Making a selection with these checkboxes will cause content on this page to change. Product listings will update as each option is selected.
FREE Standard Shipping on US Orders of $34.99 and more!
View full details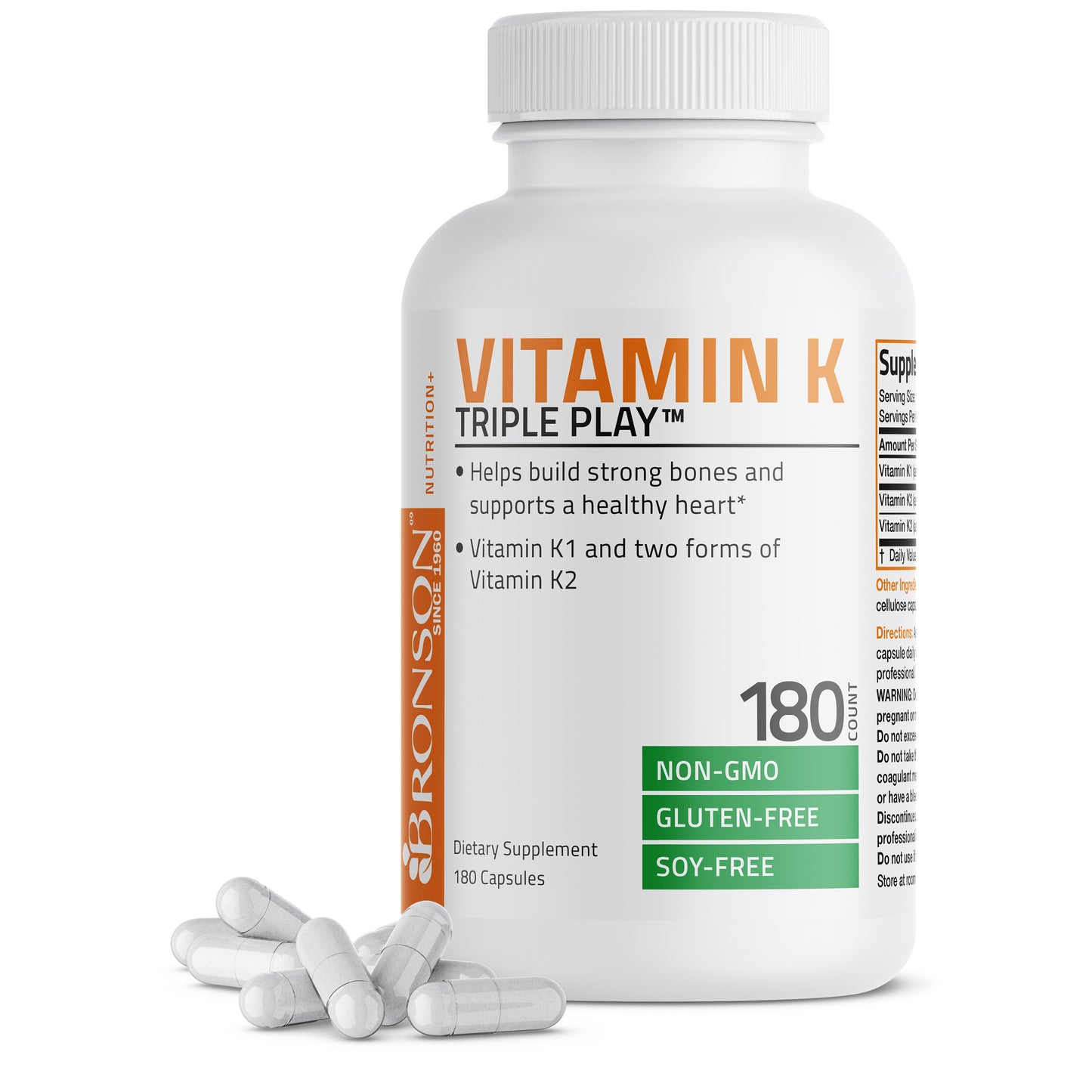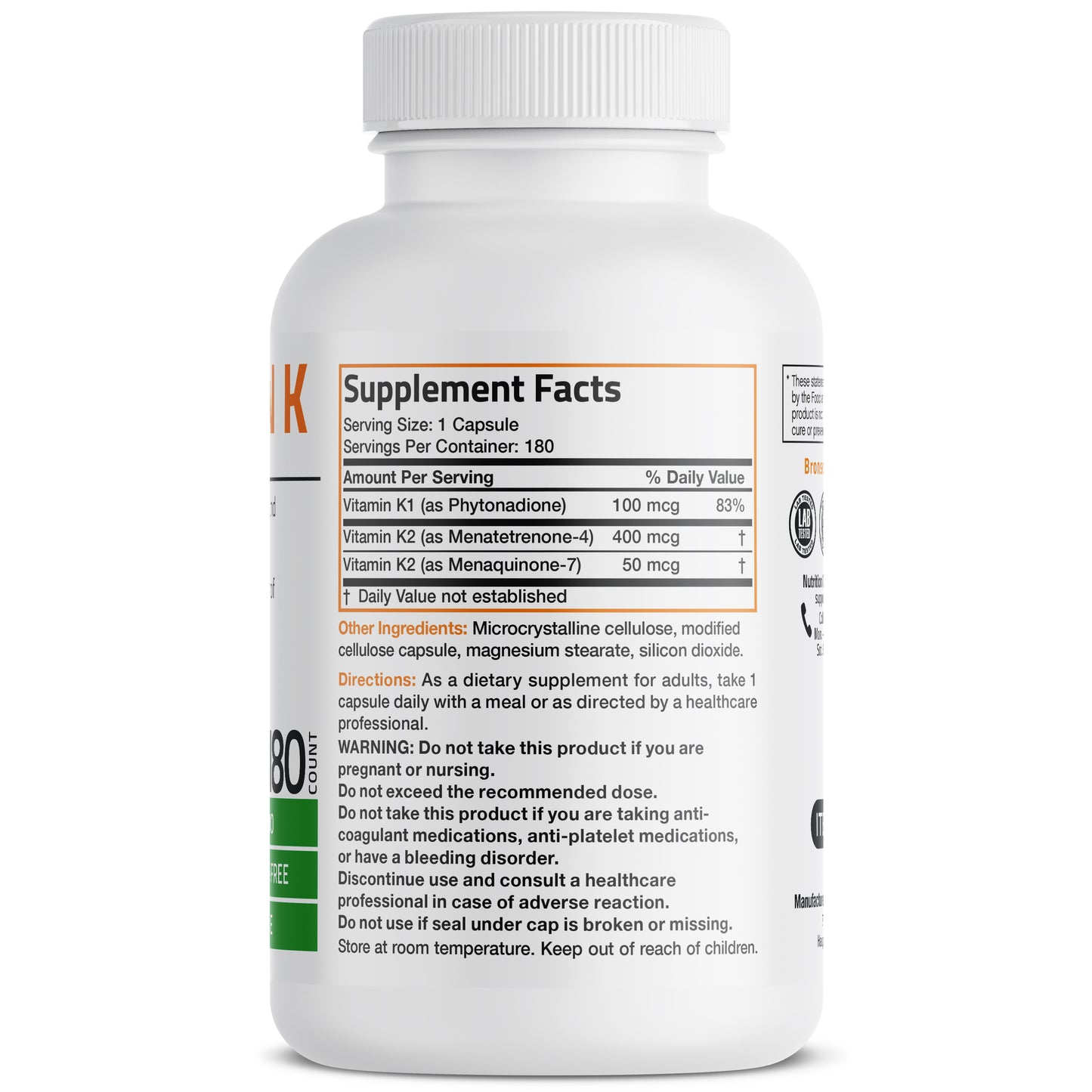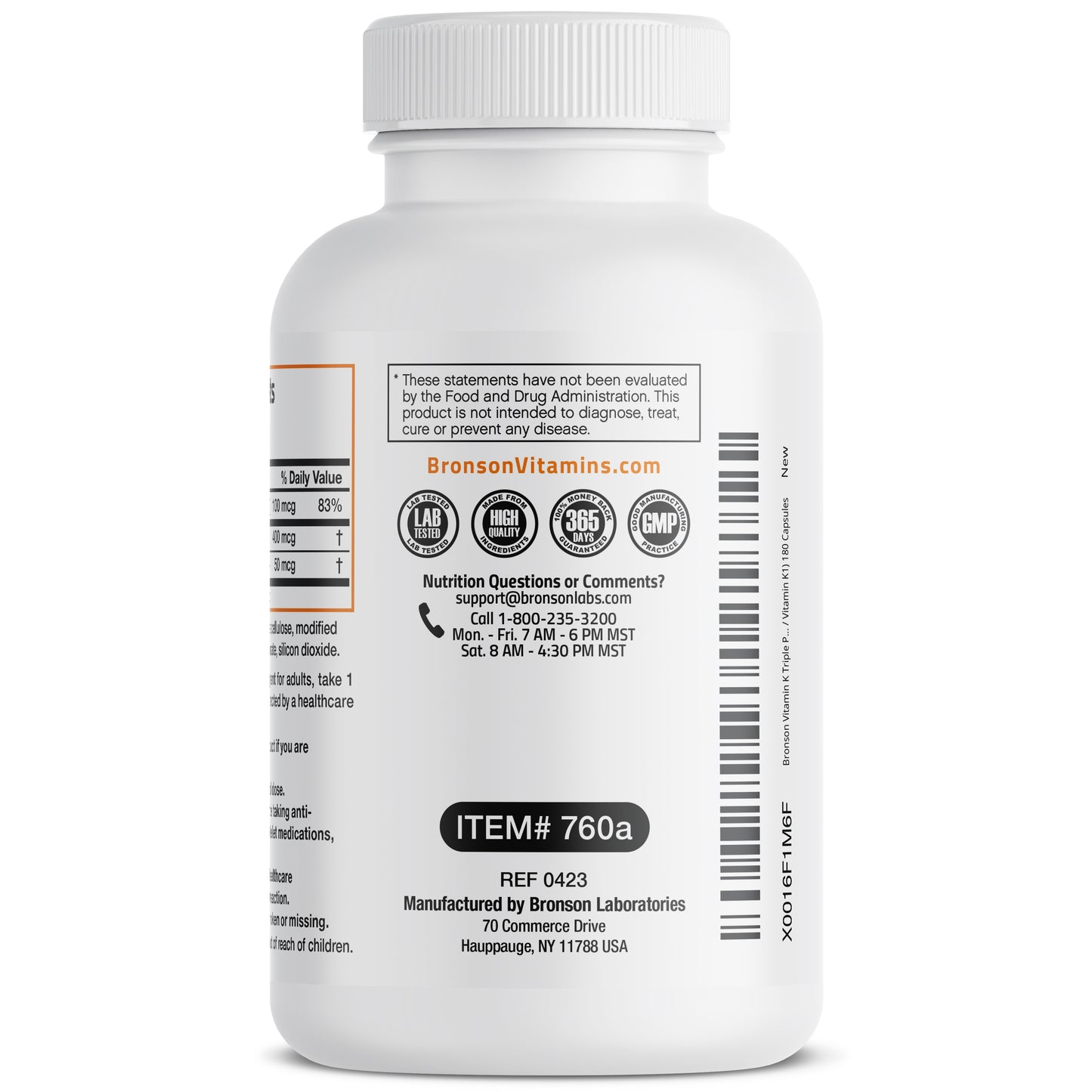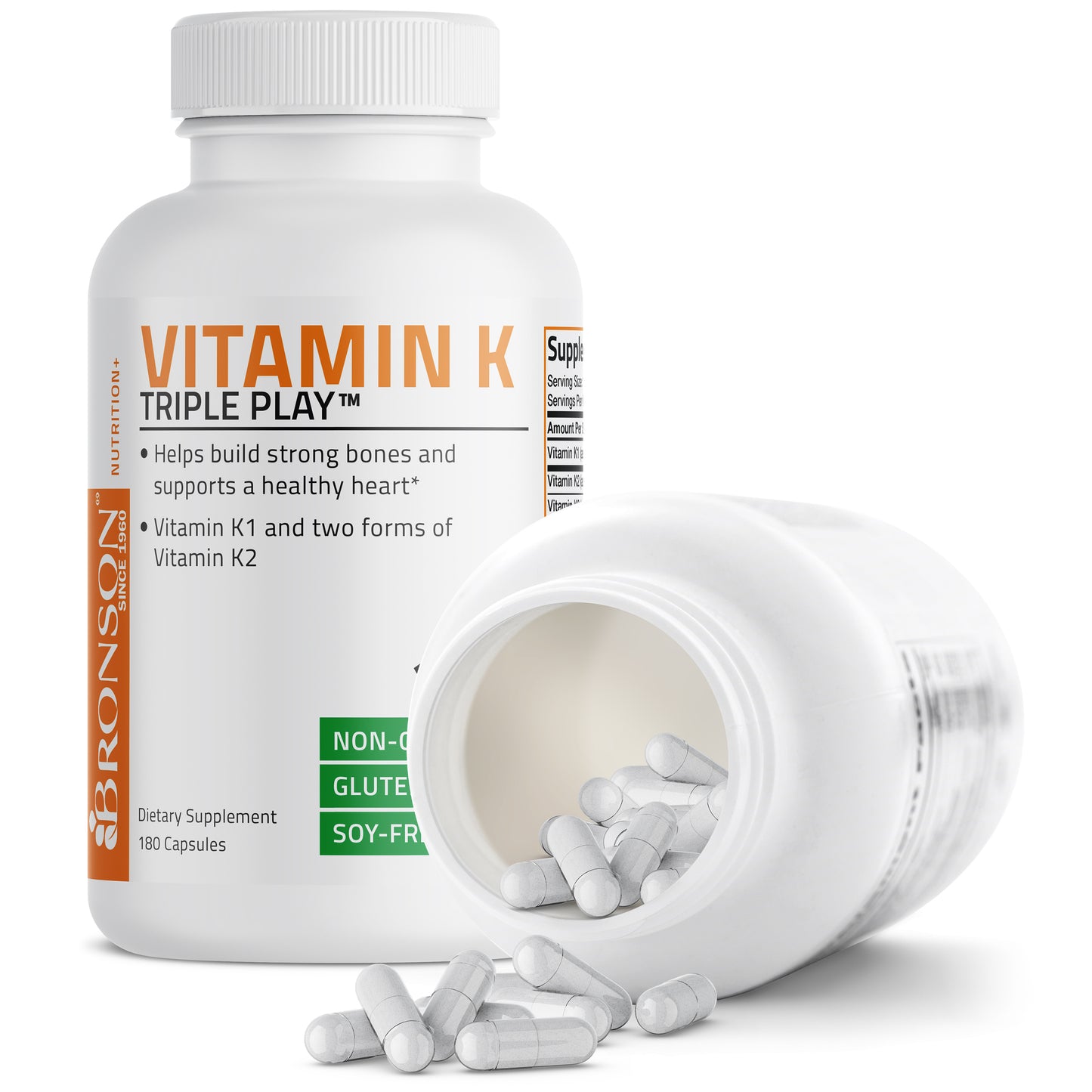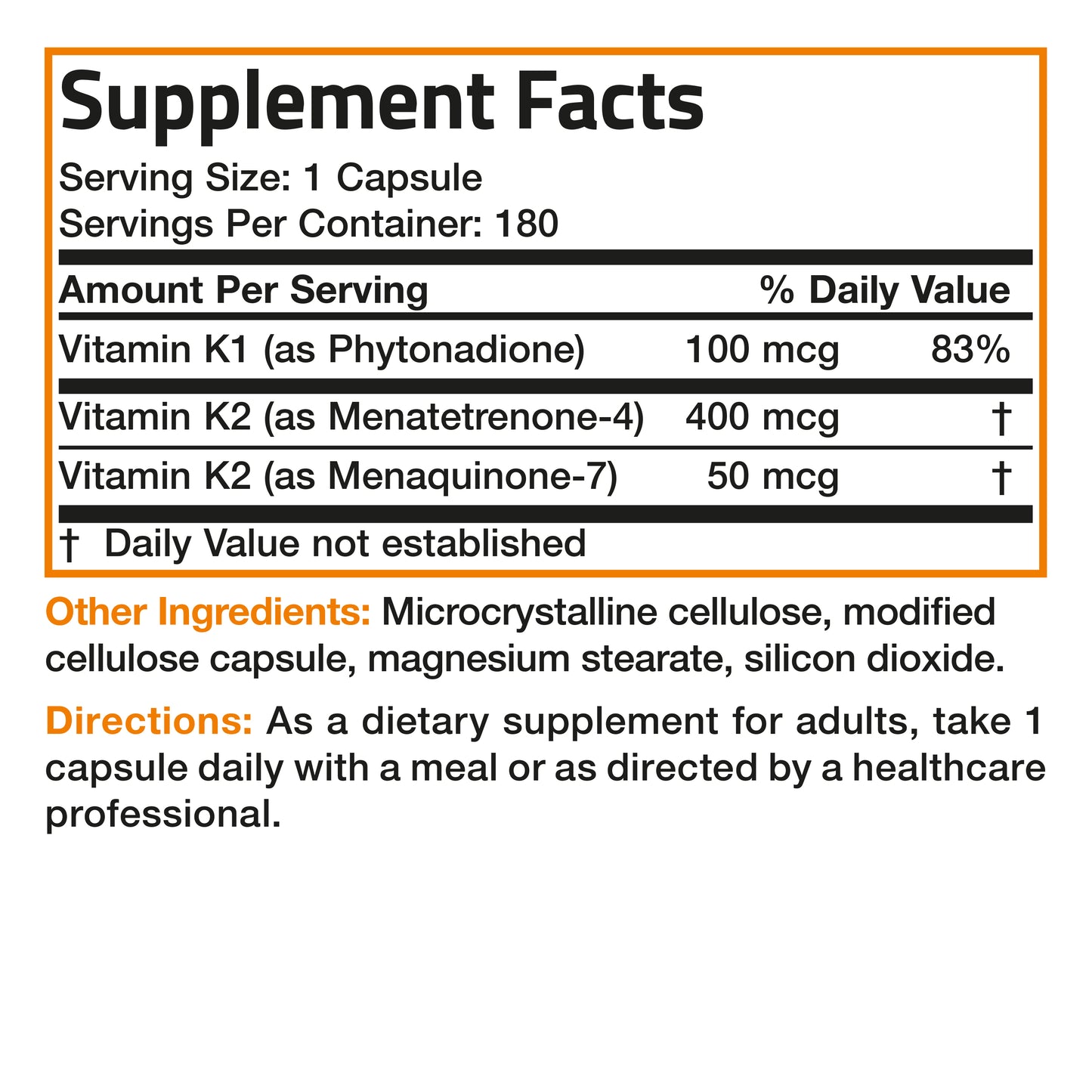 ORDER IN:
SHIPPING:

Today
Description

Why Vitamin K Triple Play™ with K1 and K2

A full spectrum complex providing multiple forms of vitamin K.

Vitamin K Triple Play™ is provided in easy-to-swallow capsules, which supply a total of 550 mcg of vitamin K1 and vitamin K2.  Each daily serving delivers 100 mcg vitamin K1, plus 450 mcg of two different forms of vitamin K2: Menatetrenone and Menaquinone.

Vitamin K consists of a group of structurally-similar, fat-soluble vitamins, vitamin K1 and vitamin K2, which are essential for helping build strong bones and providing support for a healthy heart.*  Discovered in 1929, vitamin K was originally identified for its role as a coagulation cofactor.  In the 1970s, vitamin K-dependent proteins were discovered, which showed vitamin K's role in bone and cardiovascular health.*

 Phylloquinone, also known as vitamin K1, occurs in plants.  Vitamin K2 is a range of K2 forms collectively referred to as "menaquinones," which are distinguished by a number designation according to the number of repeating 5-carbon units in its side chain.  While both vitamin K1 and K2 are beneficial to the body, only vitamin K2 is available to and utilized by soft tissues and systems beyond the liver due to its molecular structure.*  Vitamin K2 has also been shown to be more bioavailable and remain biologically active in the body longer than vitamin K1.  Bronson Vitamin K Triple Play™ is a full spectrum vitamin K complex that provides multiple forms of vitamin K, including vitamin K1 and two forms of vitamin K2, and is formulated to help build strong bones and support a healthy heart.*

Vitamin K1 can be naturally found in leafy green foods.  Chlorophyll is the pigment needed by plants to turn sunlight into food energy and is the substance in leafy green foods that provides vitamin K.   Vitamin K2 is naturally found in meat, dairy products, and intestinal microbiota.  Today, most diets are lacking many of the nutrients necessary for good health, including vitamin K.  Bronson's Vitamin K Triple Play™ supplement is a healthy and beneficial way to help promote vitamin K status in the body.*

About Bronson

Since 1960, Bronson has been providing families with the highest quality products and finest customer service available. This 60-year heritage speaks for itself. But with so many online vitamin stores, why should you purchase supplements from Bronson?

In short, our company is time proven, offering the purest, high quality vitamins backed by science. Trust Bronson to provide the very best natural health products for you and your family. Bronson Vitamins have been consistently mentioned by top medical professionals since our inception in 1960.
Details

Product Name

Vitamin K Triple Play™ with K1 and K2 - 550 mcg

Shipping Price - Standard

0.0

Suggested Frequency

Once Daily

Servings Per Container

90

Item Condition

New Condition

California Proposition 65

No

Directions

As a dietary supplement for adults, 1 capsule daily or as directed by a health professional.
Supplement Facts

Directions: As a dietary supplement for adults, 1 capsule daily or as directed by a health professional.

Supplement Facts
Serving Size: 1 Capsule
Servings Per Container: 180
 
Amount Per Serving
% Daily Value
Vitamin K
(from Vitamin K1 Phytonadione 100 mcg, Vitamin K2 Menatetrenone 400 mcg, and Vitamin K2 Menaquinone 50 mcg)
550 mcg
458%

Other Ingredients: Microcrystalline cellulose, modified cellulose capsule, magnesium stearate, silicon dioxide.

Specialty: Non-GMO, Gluten-Free, Soy-Free.

WARNING: Do not exceed recommended dose. If you are taking anti-coagulant or anti-platelet medications, have a bleeding disorder, or are planning a medical procedure, consult with a healthcare professional before taking this product.

Do not take this product if you are pregnant or nursing.

Do not use if seal under cap is broken or missing.
Store at room temperature.
Keep out of reach of children.