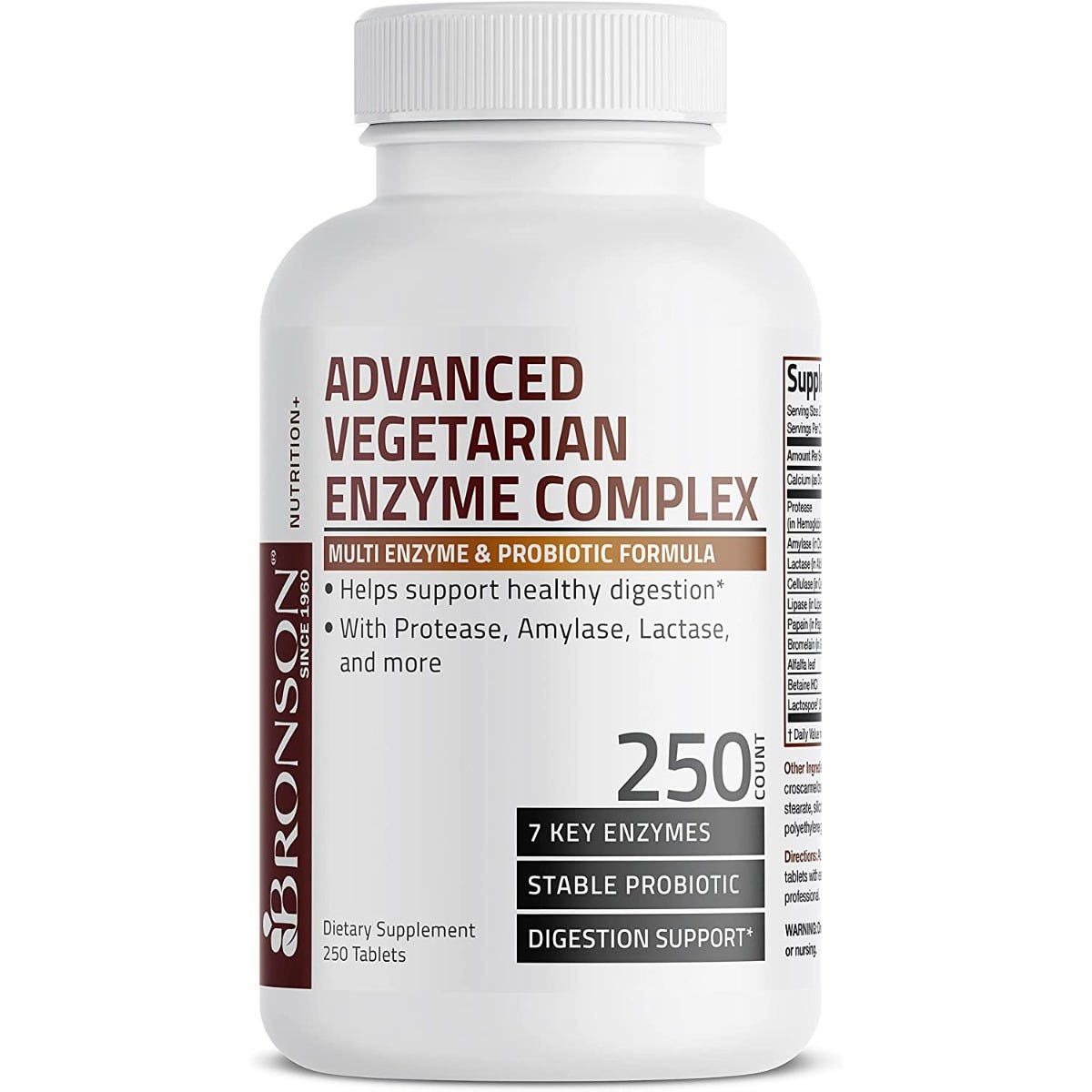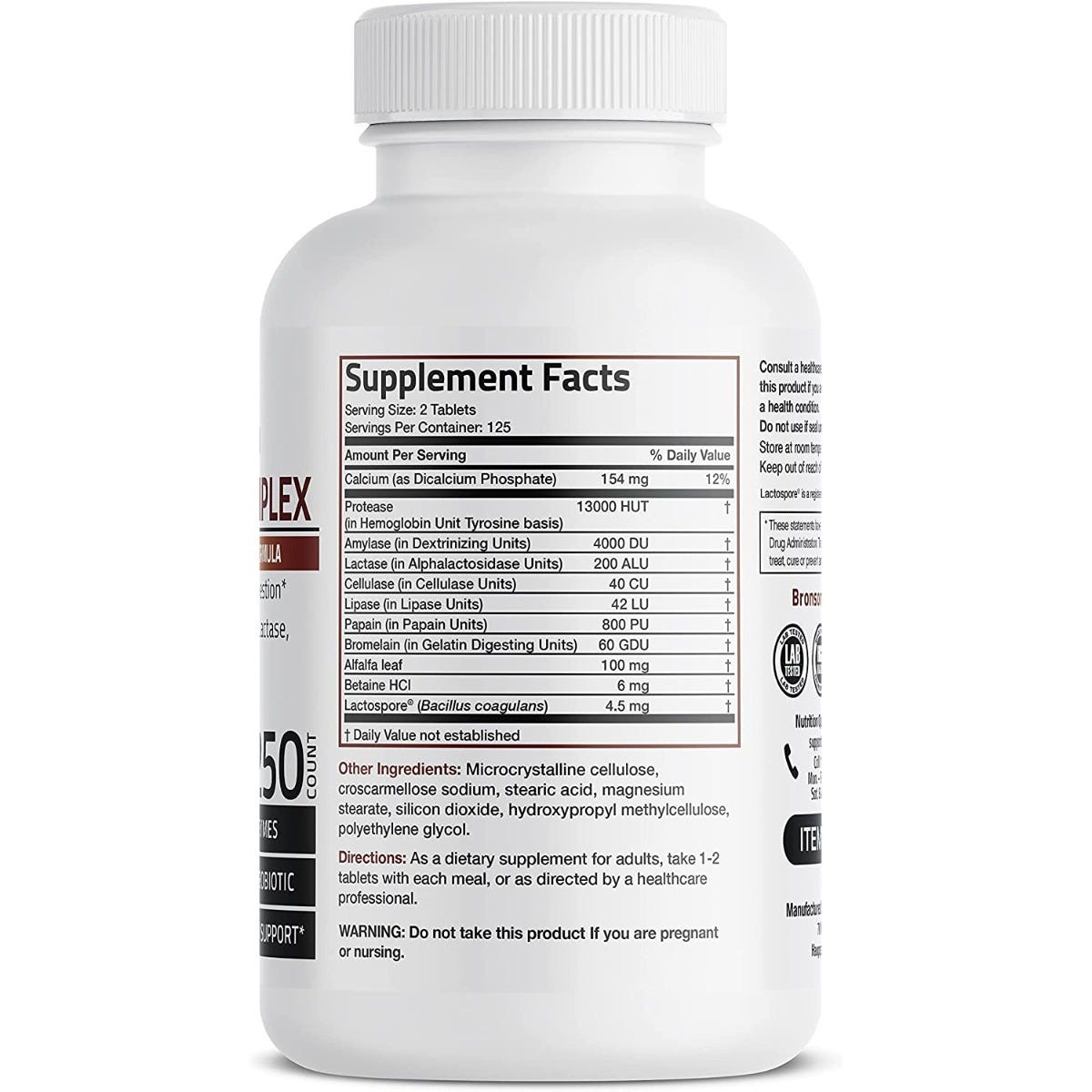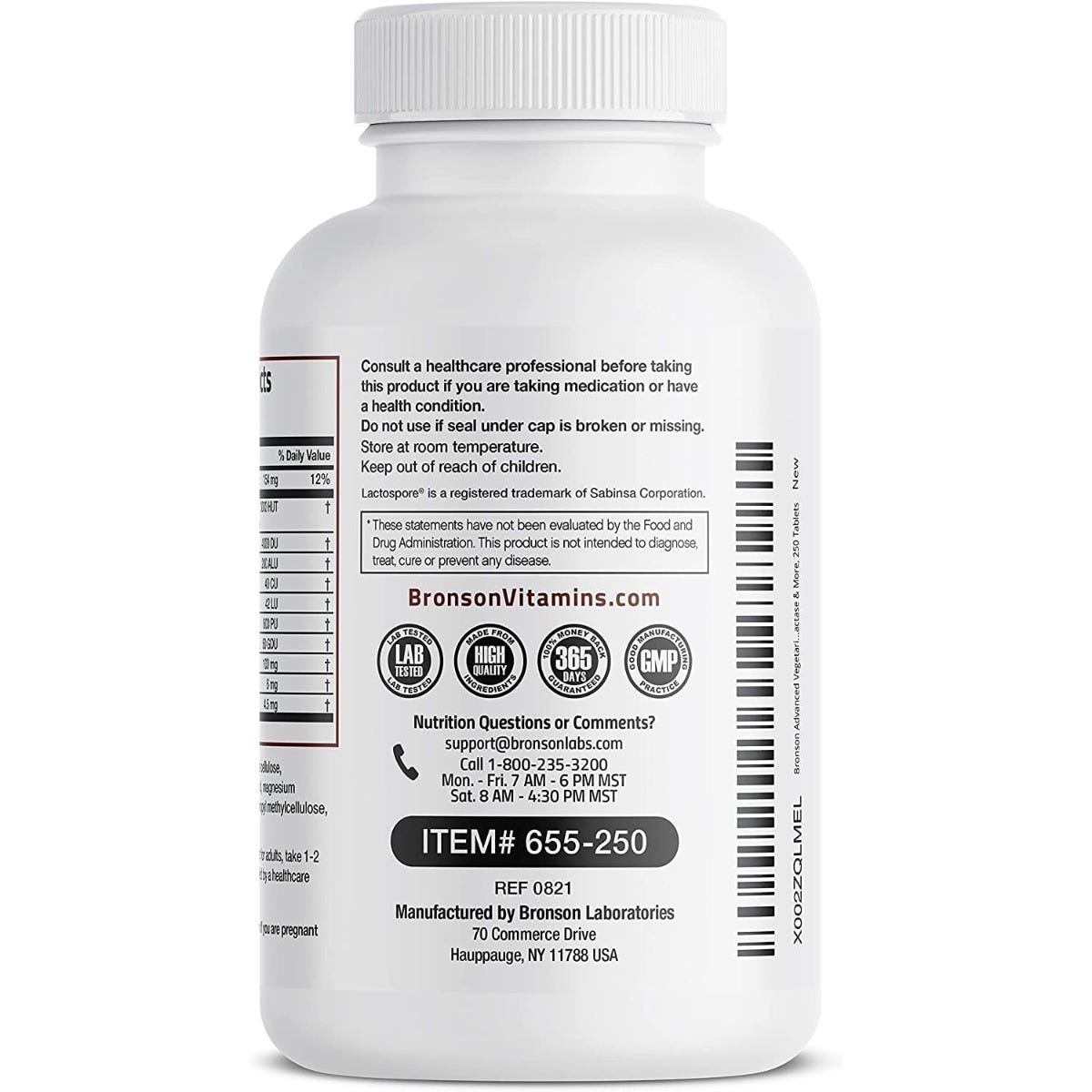 SKU: 655-250
Regular price
Sale price
$19.99 USD
Unit price
per
Sale
Sold out
Helps support digestion and nutrient absorption*
Assists the body process fats, protein and carbohydrates*
SIZE: 250 Tablets
DAYS SUPPLY: 125
FREE Standard Shipping on US Orders of $34.99 and more!
View full details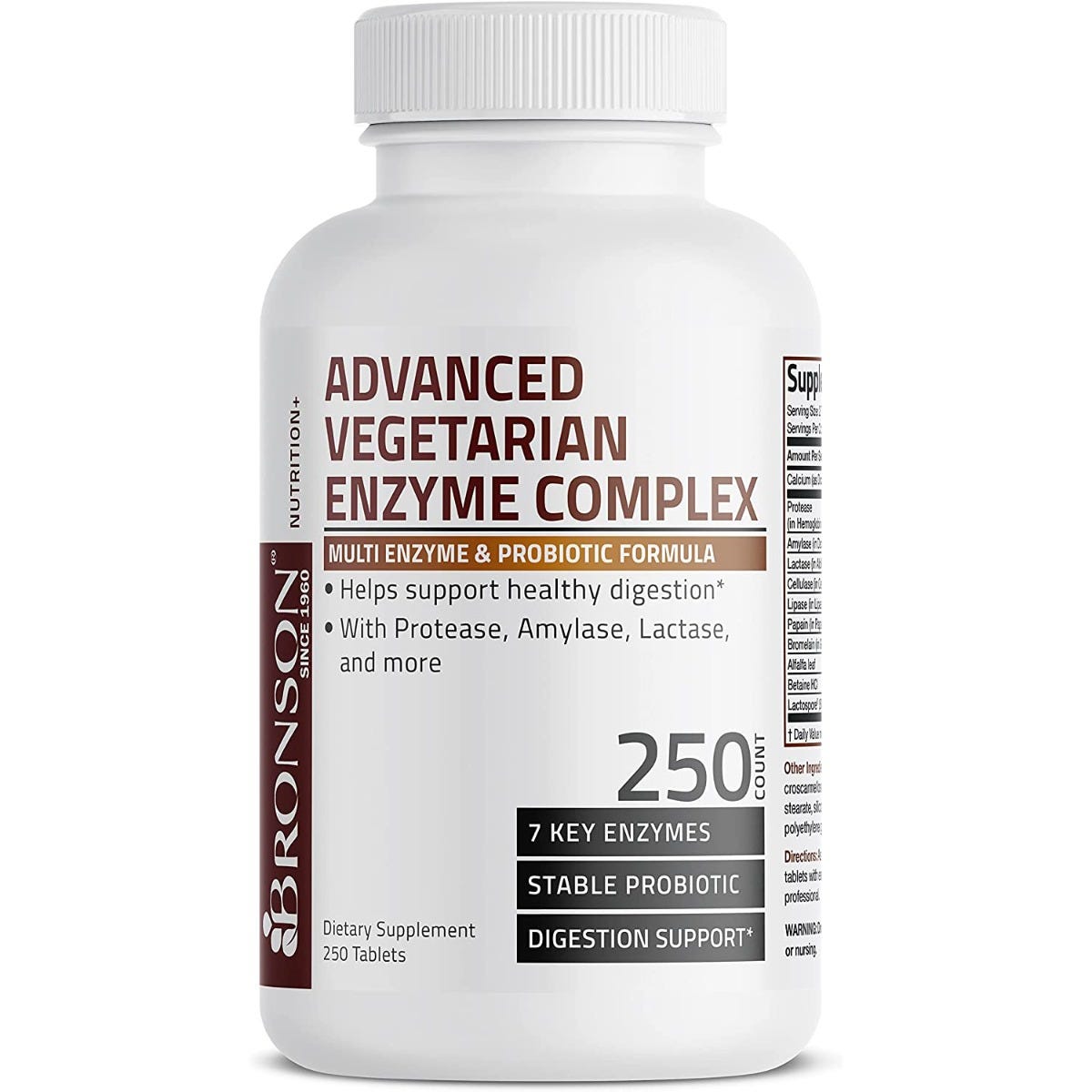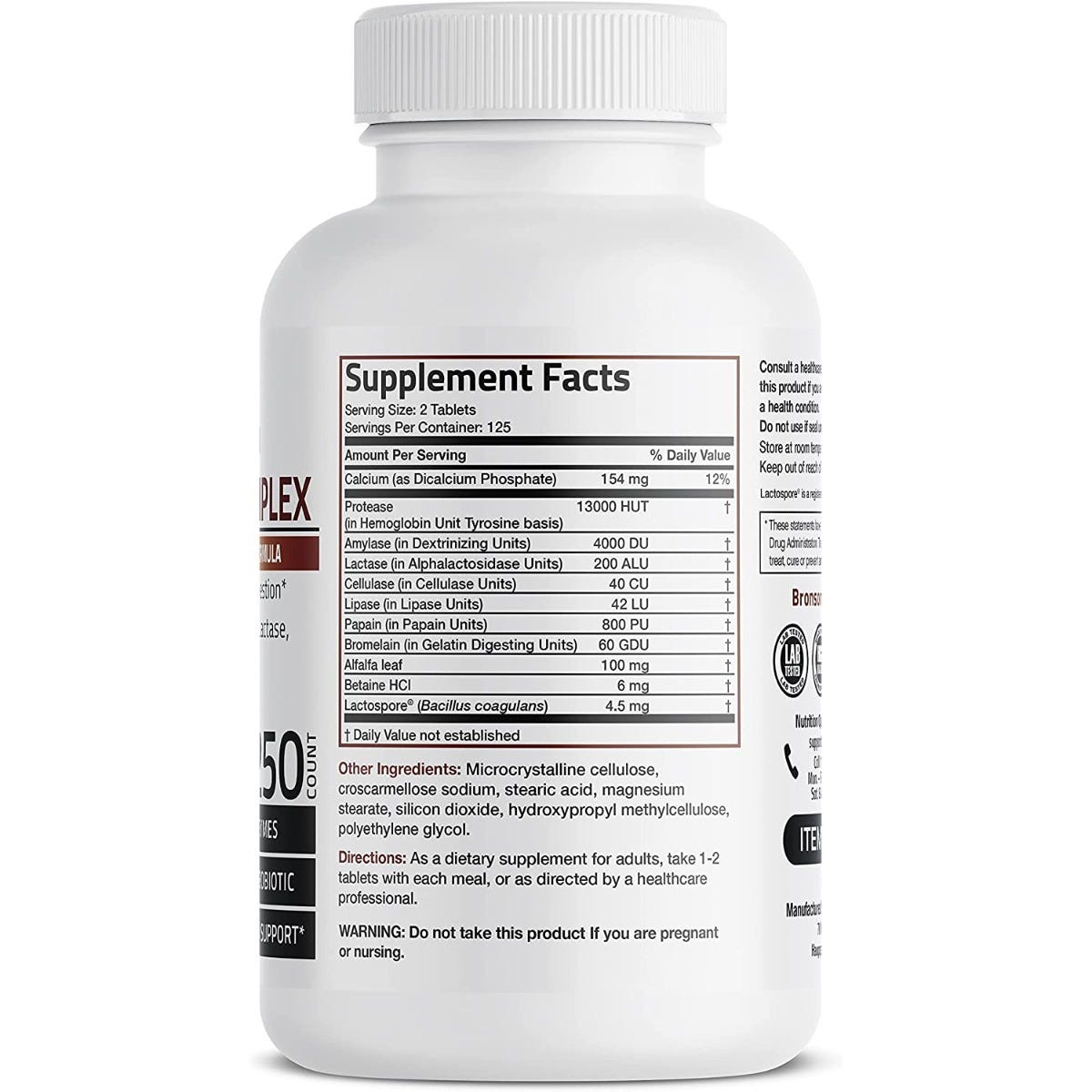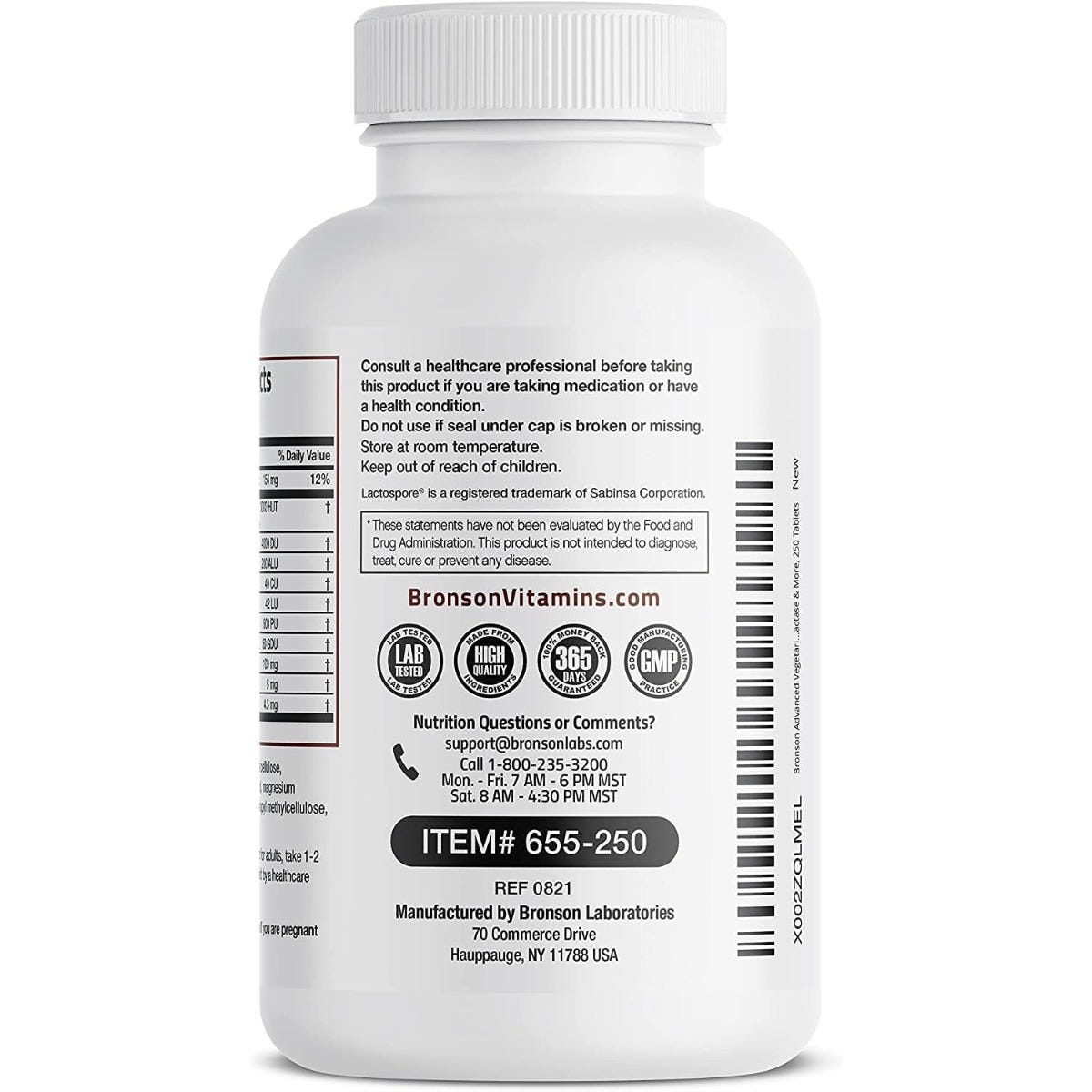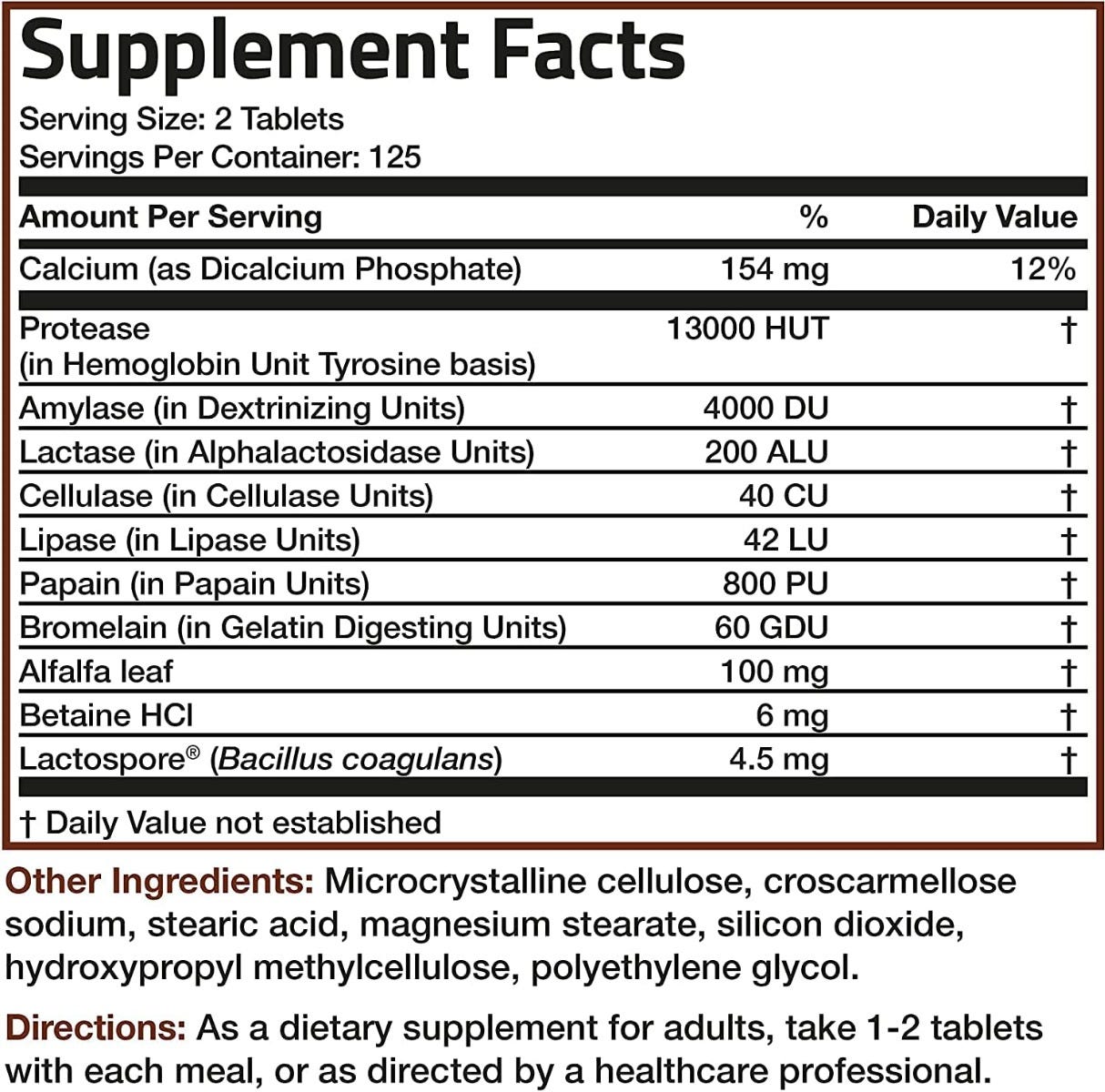 ORDER IN:
SHIPPING:

Today
Description

Why Advanced Vegetarian Enzyme Complex™

As we age, our bodies may no longer produce adequate digestive enzymes to process and digest the foods we eat. Bronson's Advanced Vegetarian Enzyme Complex™ contains seven enzymes to assist in the breakdown of food and assist in the utilization of nutrients, along with the intestinal flora benefits of probiotics. Seven enzymes, extracted exclusively from vegetarian sources and produced as a result of fungal fermentation, provide a broad range of activity to help support digestion and nutrient absorption by helping the body process fats, proteins, carbohydrates and other difficult-to-digest foods. Probiotics are key in supporting upper and lower intestinal health by helping to promote the growth and balance of healthy intestinal flora.

Advanced Vegetarian Enzyme Complex™ includes super-stable Lactospore®, which supplies 200 million friendly probiotic cells per daily 6-tablet dose. Additional digestive support is provided by Alfalfa, an excellent source of nutrients and provides alkalizing benefits, while Betaine HCI is a source of hydrochloric acid that helps digest tough, fibrous foods such as meat and poultry.

About Bronson

Since 1960, Bronson has been providing families with the highest quality products and finest customer service available. This 60-year heritage speaks for itself. But with so many online vitamin stores, why should you purchase supplements from Bronson? 

In short, our company is time proven, offering the purest, high quality vitamins backed by science. Trust Bronson to provide the very best natural health products for you and your family.
Details

Product Name

Advanced Vegetarian Digestive Enzyme Complex™ - 250 Tablets

Shipping Price - Standard

0.0

Suggested Frequency

1 - 2 Times Daily

Servings Per Container

125

Item Condition

New Condition

California Proposition 65

No

Directions

As a dietary supplement for adults, take 1-2 tablets with each meal, or as directed by a healthcare professional.
Supplement Facts

Directions: As a dietary supplement for adults, take 1-2 tablets with each meal, or as directed by a healthcare professional.

Supplement Facts
Serving Size: 2 Tablets
Servings Per Container: 125
 
Amount Per Serving
% Daily Value
Calcium (from Dicalcium Phosphate)
154 mg
12%
Protease
  (in Hemoglobin Unit Tyrosine base)
13000 HUT
†
Amylase (in Dextrinizing Units)
4000 DU
†
Lactase (in Alphalactosidase Units)
200 ALU
†
Cellulase (in Cellulase Units)
40 CU
†
Lipase (in Lipase Units)
42 LU
†
Papain (in Papain Units)
800 PU
†
Bromelain (in Gelatin Digesting Units)
60 GDU
†
Alfalfa leaf
100 mg
†
Betaine HCl
6 mg
†
Lactospore® (Bacillus coagulans)
4.5 mg
†
† Daily Value Not Established.

Other Ingredients: Microcrystalline cellulose, croscarmellose sodium, stearic acid, magnesium stearate, silicon dioxide, hydroxypropyl methylcellulose, polyethylene glycol.

Specialty: Vegetarian.

WARNING: Consult a healthcare professional before taking this product if you are taking medication or have a health condition.

Do not use if seal under cap is broken or missing.
Store at room temperature.
Keep out of reach of children.

Lactospore® is a registered trademark of Sabinsa Corp.